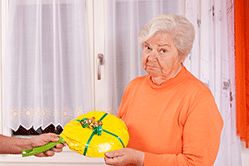 Whether it was festive excess of novelty liqueurs, mystery texts on New Year's Eve, or even personality-challenged in-laws, January is established as divorce month. Immediately post-Christmas is the most likely time for a couple to split in the UK.
If you're thinking about divorce, or you've even started on the packing, you'll need help. While it's a huge step emotionally, and can be a terribly hard time, the last thing you need is more stress and confusion about the practicalities.
One of the most common questions family lawyers face is: who gets what? If only there was an easy answer - every divorce is negotiated on the assets and circumstances of the husband and wife involved. Even with court involvement, settlements are made by and for individuals, every time.
But the law gives you basic principles that can help you see your position with the house, the business, the children and the pension. And a good lawyer will save you money. See where you stand here with our advice:
At the outset, don't risk spending the marital assets on legal bills. Talking through your emotions is free with friends and family - any good lawyer will be the first to point out that s/he will have to charge you. Use your solicitor as a lawyer, not a therapist.
Work out how much your marriage is worth - value your property, pensions and business. Easier said than done; you might need, for instance, a forensic accountant as an expert to cost the business and its future, which can cost 10-15k. But accurate valuation is vital to a fair split.
In divorce, children come first. That means their financial support and a home have the first call on the money, usually until they're 18 or 21.
Your and your ex's needs come second. 'Needs' here means essentials, such as a roof over your head.
Once the children and essentials have been secured, money and assets built up during the marriage will be split evenly.
Exceptions apply - you might be able to keep an inheritance or a trust income, but, in the lawyer's universal dark phrase "it depends".
Maintenance is called "ancillary relief". You can both ask for it, but getting it will depend on, among other factors, who has the children and your previous standard of living.
Pensions count as part of the assets - while sometimes the value is offset against the family home for the person who keeps that, these guides explain two other common ways to split cash for your retirement: the PAS' Pension Earmarking and Pension Sharing.
Family-owned businesses are usually valued either on earnings (if they make money), assets or dividends. Either way an ex can find it hard to accept that the business is not worth as much as they thought, which in the current climate is sadly more than likely. In Scotland, however, the business is valued only as it was during the marriage.
How the law decides: while settlements are individual, these factors must be taken into account: your ages; duration of the marriage (12 years counts as "long"); your health; both your earning capacities (including who has the economic burden of childcare); standard of living you built up; your contribution to the marriage; and how much money you would have to lose to leave it.