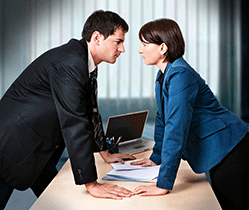 Businesses tend to experience commercial disputes of all types and magnitudes at some point in their lifetime. These disputes are usually attributable to conflicting interests among those involved in a business relationship, be it a disgruntled staff member, partner, supplier, customer or even competitor.
Given the seriousness of a business scenario and the possible impact that disputes may have on a firm's bottom line, it is important that commercial disputes are settled as soon and as amicably as possible, so years of partnership or business dealings are not destroyed over a small misunderstanding.
Commercial disputes are addressed in several ways, with legal action usually left as the last resort, depending on the nature and seriousness of the dispute. Alternate dispute resolution techniques, such as mediation, out-of-court financial settlements and negotiations, are also successful when attempted with the help of commercial dispute lawyers who are adept at handling such cases.

Common commercial disputes
Breach of contract and denial of liability. Breach of contract is a serious dispute capable of causing irreparable damages to not only the revenues of a firm, but also to the overall brand image or market reputation. A contract is legally binding on the parties involved in the deal and failure to honour contractual commitments has serious consequences.
Negligence leading to loss of revenue, business dealings, customer dissatisfaction, etc. Also a common problem encountered in business.
Personal injury, misappropriation of funds, unrecovered debts or defaulted payments too often figure in a business environment and need immediate attention to limit damage.

How to approach dispute resolution

Litigation: Litigation (the legal approach to resolving commercial disputes) is time-consuming, incurs professional costs upfront and involves processes that are quite rigid and rely solely on the proofs submitted together with the legal prowess of the lawyer.

Arbitration: The process is very similar in structure and costs to litigation. However, the parties involved in the dispute can select an arbitrator, preferably with industry knowledge, to govern the proceedings. Not all arbitrators are capable of delivering a satisfactory verdict. Mediation or commercial settlements often serve to resolve minor disputes.

Irrespective of the mode of dispute resolution, it is important to have a clear understanding of the agreement. Details relating to how exactly it was violated, the role played by each party, the loss incurred and proof thereof, the ability of the defendant to repair damages, an acceptable settlement, and the most quick and profitable way to resolve the issue must be on the table.

It is also equally necessary to evaluate the costs involved in a legal process, and the risk of losing.

Resorting to professional help

Having come to terms with the situation, business owners will have to first collect all documentary evidence to support their claim and seek the services of a professional dispute resolution lawyer to address the technicalities of the issue. Be it mediation, negotiation or litigation – experienced solicitors are invaluable. The earlier they get involved in the whole process, the easier it is for them to identify and verify proofs that favour the case. They can also advise on the most suitable way to settle the dispute and may represent the case as and when required. Legal action against commercial disputes is subject to time constraints that depend on the dispute type, and requires a quick, effective professional response to resolve the case on time.

Settling commercial disputes in a business setting is certainly not a one-man-show. Timely and judicious action not only helps save money, but also the reputation of the business.
This blog was provided by Nick Anderson of Coles Solicitors in Yorkshire. You can follow Nick on @NickNikanderson.