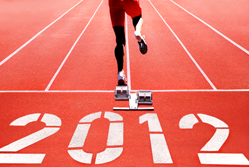 I was recently tipped off by a friend who manages a large high street bookstore that I was infringing trademark law on my website.  We make homewares and accessories from recycled and vintage fabrics, and like many artisans and craft-based companies, one of our products has a Union Jack inspired design. It being the year of Britain's hosting of the Olympics, we wanted to flag up our cushion. The wording in question was this: "Celebrate the Olympics in style with our Union Jack cushion". Having read the guidelines my friend sent me, I promptly took down the text in question and quickly removed every other mention of the Olympics on my website.
Olympic trademark infringement phrases and symbols
In 2006, after London won the right to host the 2012 Games, the London Olympic Games and Paralympic Games Act was adopted to protect signs and representations relating specifically to the 2012 Games.  This followed a previous Act, drawn up in 1995 to protect the symbols of the Olympic movement.  However, the 2006 Act goes to even greater lengths to restrict the use of terms and phrases associated with the Olympics.  They are:
The Olympic Symbol
The Paralympic Symbol
The London 2012 Olympic and Paralympic Emblems
The London 2012 mascots
The words 'London 2012'
The words 'Olympic', 'Olympiad', 'Olympian' (and their plurals and words very similar to them - eg 'Olympix'
The words 'Paralympic', 'Paralympiad', 'Paralympian' and their plurals and words very similar to them - eg 'Paralympix'
The words 'games', 'two thousand and twelve', '2012' and 'twenty twelve' which may not be used in combination with each other or with 'gold', 'silver', 'bronze', 'London', 'medals', 'sponsor' or 'summer'.
The olympic Motto: 'Citius Altius Fortius' / 'Faster Higher Stronger'
The Paralympic Motto: 'Spirit in Motion'
The Team GB logo
The ParalympicsGB logo
The British olympic Association logo
The British Paralympic Association logo
london2012.com (and various derivatives)
The London 2012 sports pictograms
Ignoring these restrictions and producing advertising, promotional material or web content which uses them could therefore result in hefty fines, or worse, court action.
If, like us here at OriginalStitch this is worrying you, then I suspect you are not the only ones.  Small businesses without in-house brand consultants or PR firms to keep them abreast of legal issues such as this are at risk of incurring the wrath of LOCOG (London Organising Committee of the Olympic and Paralympic Games).  Small businesses could unwittingly already be investing in marketing tactics they may be forced to pull.
Ambush marketing
LOCOG's greatest fear appears to be that ambush marketing tactics will be employed — you can read an example of this in Mike Lynd's article on Olympic trademarks; where companies try to 'jump on the Olympic bandwagon' with outrageous stunts to get their logo or company insignia noticed on the back of events hosted by the Olympics.
Jumping up and down waving your company's logo at the riverside of a rowing event is ambush marketing — it could give the impression you are in some way affiliated with the event when you are not; in reality it is the larger brands who have the funds to stage bigger and more spectacular stunts who scare LOCOG, but they are doing it knowing the risks they face; we small businesses, probably do not.
A small business making and selling red, white and blue bunting for example, and wanting to attract people having Olympics get-togethers might spend £150 on flyers with a phrase as apparently innocuous as the heading we used on our website. But that's a lot of money to a small business, especially if they have received no warning of these restrictions. The bunting selling business clearly isn't trying to suggest that they have the full weight of the Olympic association behind them, or that they are an authorised Olympic pretty bunting retailer — they are simply catching a wave of public interest in an issue or event, and hooking their product onto it.  
Million-pound exclusivity contracts
Most of us understand why these protections must be in place. They are there to protect the companies who have paid millions in sponsorship and spent months or years negotiating exclusivity clauses in their contracts as authorised Olympic associates; and clearly it is necessary to have punitive means of targeting unscrupulous individuals or companies who seek purposefully to con consumers with the impression they are endorsed by the Olympic organisations.
No matter what our view on the consequences of these exclusivity contracts on small businesses, or our opinion on the extraordinary lengths LOCOG are prepared to go to in order to stifle brands' use of the Olympics in their PR and marketing message calendars, we have little choice but to play ball. But how to play it safe?
Says Mike, "The laws surrounding the various Olympic words and symbols are extraordinarily draconian; if you as a householder living in Stratford display a poster in your window for the "wrong" cola company or sports shoe company, the police have an absolute right to break into your home to remove the poster. It remains to be seen whether the law will in fact be enforced in a drastic fashion."
But there are things you can do. And to ignore this momentous event in 2012 would be both a shame and a waste. You can read my ideas of how to market your business with an Olympic theme without breaking the law on Marketing Donut.
Catherine Lloyd-Evans is the founder of OriginalStitch and blogs at Stitches & Glitches