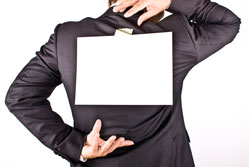 Big changes to business tax and employment rules become law in spring and autumn. Use our checklist to make sure your business is on top of the new rules:
1 April
Corporation Tax falls to 27 per cent and the Small Profits rate drops from 21 to 20 per cent. You must now submit your Company tax online and pay all the tax due under it electronically through HMRC's online services.
3 April
Additional paternity leave: most working fathers gain the right to additional paternity leave and pay. Your employee(s) will only be able to start the leave 20 or more weeks after the child's birth (which should be after 3 April) and he must give you eight weeks' notice.
Unless you have a contract that says otherwise, you only have to pay your employee(s) additional statutory paternity pay during the time his partner would otherwise be receiving statutory maternity or adoption pay, or maternity allowance. You will need a declaration saying the employee is taking the leave for childcare and a statement from the mother.
Proposed flexible working for parents of 17 year olds withdrawn
Initially due on 5 April 2011, employers should note that the proposed extension of the right to request flexible working to the parents of 17 year olds has been withdrawn.
6 April
Tie-breakers when recruiting : you can use positive action as a tie-breaker when hiring staff, but only in pretty limited circumstances. If you think someone affected by a certain type of characteristic – such as their age, disability, race or sex - could be suffering as a result or is underrepresented in your firm, you can choose them over another equal candidate.
But positive discrimination remains unlawful, as do your chances of getting two entirely equal candidates, so you may wish to steer clear of this new power.
Retiring staff: as from today, you can't. Our guide shows you what to do instead.
Georgina Harris, Law Donut editor