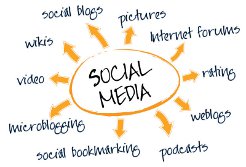 The heart of the term social media is the word 'social', suggesting that the online world is for interacting, communicating and sharing knowledge. The aim of having social media guidelines for your business is that they should mirror this mindset with the idea that employees should behave as they would do in the offline world - with inhibitions, decorum and common courtesy. This is especially so as it is still common for people to alter their online and offline personas. Many still use the internet as an outlet for airing their thoughts with little consideration of the severity and long term effects of their actions. This is not to say that employees cannot be trusted, instead they can be positively guided to utilise their talent and act in a way which protects their own and the company's online reputation. Some dos and don'ts for setting up social media guidelines for your employees are listed below:
1. Do choose trust and empowerment.
Social media use can instill fear and angst in the minds of businesses. Most instantly assume employees cannot be trusted or will not act in the company's best interest. Nevertheless, they must learn that the paradigm shift is here to stay. Rather than fretting about the potential negatives they must realise its benefits. It is never a good idea to set stringent controls on social media in the workplace or via guidelines. Banning social media in the workplace or heavily restricting use could result in a backlash. Employees are potential social media representatives and to make social media work properly across the enterprise they must be empowered to leverage social media in support of the brand and its products. Therefore guidelines should protect and advise on social media, not control or restrict.
2. Don't forget to cater for all platforms.
This includes blogs, forums, message boards, social networks (Facebook, Twitter, LinkedIn etc), user generated content (ie YouTube, Flickr etc) and any other relevant channels. Create an individual framework for participation in various online communities. Covering all platforms avoids any confusion or loopholes, increases social media presence and identifies how social media channels overlap (ie status updates, uploading photos and friend/connection requests). Social media guidelines could include how to use each platform for business and personal use, how to utilise each platform's functionality and suggestions on the most appropriate behaviour for each platform.
3. Do stress the importance of privacy and confidentiality.
It is essential to outline what information is regarded as private, confidential and sensitive, and which should never be disclosed in any circumstance. The next step is outlining how to behave when something is a grey area ie tweeting about a new client project - does the client want to be mentioned and is the project 100 per cent finished? Hold a team meeting at the beginning of each week to identify tweetable topics or assign a person as point of contact to give consent on disclosing potentially sensitive information. Privacy should also extend to client information, geolocation check-ins, other brands and competitors.
4. Don't diminish personal responsibility.
It needs to be stressed that posting content online becomes permanently available thus you are accountable for your own reputation and digital footprint. Your online relationship changes and becomes even more essential as soon as you identify that you're an employee of a firm or speak in any kind of professional capacity. Therefore, disclaimers should be encouraged to make it clear that you are an employee of a firm, but are interacting on behalf of yourself and not the company. It should be made clear that this doesn't give a person a reason to be dishonest, rude or inappropriate. If someone would like to represent the company on a deeper, professional level there should be a point of contact or training offered to do so.
5. Do persuade employees to add value.
This leads onto thought leadership. Social media is about people, not logos. If employees want to communicate in a professional capacity then put suitable guidelines in place to cater for this. Guidelines for acting on behalf of the organisation should include:
obtaining official backing from an assigned point of contact (see point 3, above)
how to define purpose and outcomes which fit with the business' objectives
how to create valuable and unique content (ie blogging, forum participation)
how to respect and engage with your target audience.
By encouraging employees to demonstrate the depth and breadth of their expertise with information tailored to your clients' needs, it can help position your company as a leader and trusted resource.
Overall, the ideal guidelines should protect the reputation of the company on all platforms, be in line with the company's vision and act as a best practice engagement strategy.