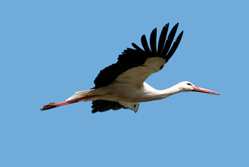 If you're an employee, you get statutory paid leave when you give birth, but what about the self-employed? Sure, you may be able to claim maternity allowance - social security benefit paid for 39 weeks - but it's only £124.88 a week (or 90 per cent of your gross average weekly earnings, if less), and you can't claim if you are still working.
Now the EU is proposing that we give self-employed women - and the wives or partners of the male self-employed if they help their man out at work - at least 14 weeks' maternity leave allowance.
This will be paid out of a social insurance scheme, requiring contributions from the self-employed. The EU is leaving it up to each member state to decide whether women have to join a scheme - and pay - or whether to make joining voluntary.
Will this help women? My fear with this proposal - and it's a point I've made before on the LawDonut - is that here we are again, contemplating new laws designed to help women, without really knowing whether they will or not - whether they might even prejudice self-employed women - because no-one is really thinking the idea through or doing the research to find out what the real consequences will be.
We need women and men to have equal rights at work but when it comes to maternity rights, you could argue that the only law we've seen working properly to date is the law of unintended consequences.
For example, the anecdotal evidence is that the current rules on maternity leave and pay for women employees seem to be stopping some employers from taking women of child-bearing age on in the first place. Rather than do the research to find out if that's true, and maybe think of other ways that women can be made equal, the (Labour) government's reaction was to give women even more of those rights.
And my fear in relation to this new development is that, even if the government has the best of intentions, women will yet again end up suffering in the world of work - maybe having to pay for insurance that will pay out less than many would earn, but stopping them from working to supplement it - so that a measure intended to benefit them ends up doing the opposite.
And what's with the women-only contributions scheme? Why aren't men contributing to the payments? Women - who make up more than half the taxpayers in this country - don't get reductions on their tax bill because they're less likely to end up with the costly diseases many men get, or in prison and costing the taxpayer £1k a week.
Whose kids are these anyway? Shouldn't both parents chip in towards something that indirectly contributes to the welfare of their offspring?
It will be at least two years before the UK has to bring the new rules in (though they have up to four years if they "find difficulties" in working out how to do this). The government is bound to consult, so get ready to have your say. My comment is, don't do it until you've done the research that tells you it'll work as it's meant to work.
You'll find much more about the rules on maternity leave and pay in the employment law section of the Law Donut