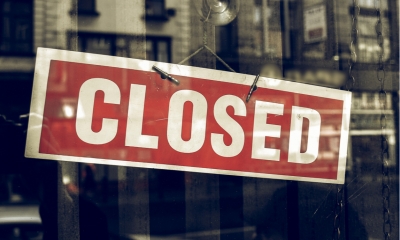 The government has stepped up measures to prevent the spread of coronavirus and has said that all "non-essential premises" must now close.
The new guidelines require the following businesses to shut their doors until further notice:
All non-essential retail businesses;
Restaurants, cafes, pubs, bars and nightclubs;
Hair, beauty and nail salons;
Tattoo parlours;
Markets (except food stalls), auction houses and car showrooms;
Hotels, B&Bs, campsites and caravan parks (key workers and anyone unable to stay in their primary residence can stay);
Cinemas, theatres and concert halls;
Libraries, community centres and places of worship;
Museums and galleries;
Bingo halls and casinos;
Spas, gyms, bowling alleys, play centres, skating rinks and leisure centres.
The government is asking affected businesses, venues and premises not to open for trade with immediate effect; it will look again at these measures in three weeks and relax them "if the evidence shows this is possible". These closures are now enforceable by law in England and Wales.
Exceptions include cafes and restaurants offering a takeaway and/or delivery service as well as canteens in hospitals, care homes and schools.
Key retail exceptions are:
Supermarkets and food shops;
Newsagents, corner shops, banks and post offices;
Home and hardware stores;
Laundrettes and dry cleaners;
Petrol stations, garages and car rental firms;
Pet shops;
Bicycle shops;
Pharmacies and health shops.
Businesses that are allowed to stay open must implement further protective measures:
Ensure a distance of two meters between customers and shop assistants;
Let people enter the shop only in small groups;
Provide queue control outside shops and premises.
Business support
Businesses in England in the retail, hospitality and leisure sectors will be eligible for cash grants of up to £25,000 per property. Eligible businesses in these sectors with a property that has a rateable value of up to £15,000 will receive a grant of £10,000. Eligible businesses and premises in these sectors with a property that has a rateable value of between £15,001 and £51,000 will receive a grant of £25,000. Businesses with a rateable value of over £51,000 are not included in this scheme.
The government has also provided a one-year business rates holiday for firms in the retail, hospitality and/or leisure sector. This will apply automatically to business rates bill from April 2020.
Written by Rachel Miller.