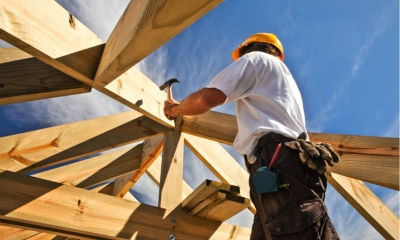 New research finds that Leicester, Bristol and Sheffield top the charts as the most successful cities for tradespeople.
Confused.com has studied the survival rates of different trade businesses across the UK - including plumbers, electricians, double-glazing installers, gardeners, builders, carpenters, painter/decorators and plasterers - to find the UK's best and worst cities in the UK for trade start-ups.
The findings reveal that, on average, 77% of trades businesses across the UK survive beyond two years. For anyone looking to start a trade business, the Midlands is a promising option. Leicester, Nottingham and Birmingham are all within the top six areas based on business success rate.
Leicester has the highest survival rates of all, with 90% of businesses still going after two years. Carpenters, gardeners and painter/decorators are particularly successful here. Bristol (90%) and Sheffield (88%) follow closely behind.
London is the most competitive region for trade businesses. There are 7,649 trade businesses in London, 141% higher than the average UK city, with an average survival rate of 84%. Meanwhile, Cardiff has the fewest number of competing trade businesses in the UK (1,457), suggesting it could be one of the best cities for a start-up. In particular, roofing and double-glazing businesses are thriving, with a 100% two-year survival rate in the Welsh capital.
The study reveals that the most secure trade professions are electricians and double-glazing installation businesses - both of which have an average survival rate of 89% after two years. In addition, electricians have the healthiest profit margins, making £181 a day after costs.
Starting a roofing business could be a risk, as the trade has the lowest survival rate (78%). However, roofing businesses in Sheffield, Nottingham and Cardiff have the best chance of thriving, with a 100% survival rate.
Running costs vary between trades, including for van insurance. Landscape gardeners pay £1,424 a year on average (the highest insurance cost), while other gardeners pay only £1,392. Trades with the cheapest van insurance include painter/decorators (£870) and double-glazing installers (£889).
Builders have the highest public liability insurance at £278 a year, higher than plumbers (£217) and carpenters (£126). Electricians pay the least at only £81, contributing to their high profit margins.
Confused.com has published a guide to becoming a tradesperson.
Written by Rachel Miller.