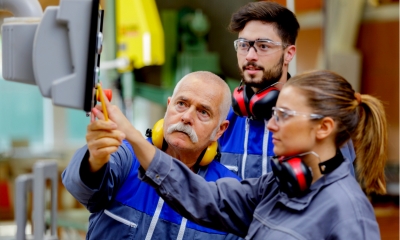 The latest Government figures show that the number of apprenticeship starts have continued to fall since the introduction of the Apprenticeship Levy.
There were 369,700 apprenticeship starts between August 2017 and July 2018, covering the 2017/18 academic year. This compares to 491,300 and 503,700 reported in 2016/17 and 2015/16 respectively.
It means that provisional starts for 2017/18 are down by a quarter on last year and 27% on the year before. The Apprenticeship Levy was introduced in April 2017.
Jamie Kerr, head of external affairs at the Institute of Directors (IoD), said: "Today's figures show that apprenticeship starts have still not recovered since the introduction of the Levy and there is still a mountain to climb to get the system to a place where it can deliver the skills the UK needs."
The Government announced a package of reforms to the Apprenticeship Levy on 1 October this year. An extra £90 million of Government funding was allocated to enable employers to invest a quarter of their apprenticeship funds on people working for businesses in their supply chain - boosting the number able to benefit from high-quality apprenticeship training.
A further £5 million was announced for the Institute for Apprenticeships to introduce new standards so that more courses can be offered. The Government says it will discontinue the old frameworks so that all new apprenticeships will be on the same higher-quality standards by the start of the 2020/21 academic year.
"The Government has responded positively to concerns about the Apprenticeship Levy," said the IoD's Jamie Kerr. "The announcement that levy-paying firms will be able to transfer more of the funds down their supply chain was welcome, and we would urge companies to take full advantage of the reforms when they come into force next April."
"Looking ahead, our skills system must keep pace with the shifting needs of the modern economy," he added. "The Government is engaging with employers and must keep the Levy under review to make it work for both apprentices and employers."
In the coming weeks, the Government will seek views on the operation of the levy after 2020. It will also establish a National Retraining Scheme during this Parliament to equip workers with the skills needed for the new economy.