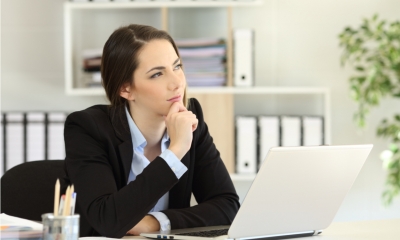 New research has found that half of UK employees fear they're in the wrong job; while a survey of freelancers has found many are lonely and stressed.
A study of 2,000 adults, carried out by OnePoll for PeopleCert, has found that six in ten workers are bored or dissatisfied with their job and 39% say it is just a way to pay the bills. The findings show that a quarter of professionals want to change careers completely, with 80% aiming to do so within the next five years.
Other key findings include:
Employees polled said they think about changing careers eight times a month;
40% said they would accept a lower salary if it meant they were working in a job they were happy in;
60% said they would work longer hours if they were in a role they enjoyed;
52% would consider moving to another city for the right job;
48% would relocate to another country.
However, more than one in ten said they are seeking the chance to grow in their current position and believe they need to retrain. A third said they are under-skilled compared to their colleagues and worry that they would be overlooked when it comes to promotions. In fact, 67% of those polled said retraining could reignite their career.

For those thinking of working for themselves, however, the reality may not live up to the dream. A new survey of 1,500 freelancers and office-based workers by Viking has studied the pros and cons of being employed and self-employed. The results show that 64% of freelancers say they regularly feel lonely due to their work, 56% have suffered depression and 62% say they feel stressed due to work. By comparison, just 30% of employees said they suffer with depression and 55% feel stressed.
The survey also found that freelancers find it harder to switch off from work when on holiday - 30% of freelancers take their work laptop on holiday, compared to just 13% of office-based workers. And 54% of freelancers read work emails compared to 36% of employees. Just 15% of freelancers said they avoid work altogether when on holiday, compared to 42% of office-based workers.
Bob Huibers, marketing executive at Viking, said: "Freelance working is often seen as the dream working scenario, where you can set your own hours, choose your own clients and avoid that dreaded daily commute … We were shocked to see that so many freelancers suffer from mental health problems linked to their work, the solitary nature of being a freelancer and feeling unable to switch off on holiday. This research shows how it's vitally important to get the right work-life balance and look after your mental health, no matter what industry you work in."
Written by Rachel Miller.