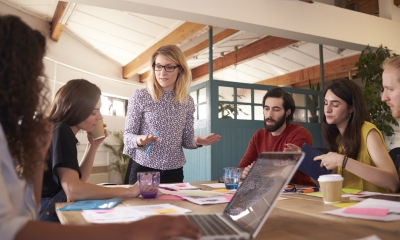 More women than ever are setting up businesses but a new study of British SMEs has found that the bigger the company, the less likely it is that a woman is running it.
Ahead of this year's International Women's Day on 8 March, technology company UENI has published a report looking at the gender gap facing female SME founders.
The data shows that the gender split in UK businesses is continuing to close, with female founders making up 32% of business owners, up from 17% four years ago.
However, the findings show that women are less likely to run companies with a larger employee count - only 23% of companies with four or more employees are run by women and women are more likely to start businesses in traditionally feminine sectors such as hair and beauty.
"There is a long way to go," said Christine Telyan, UENI's co-founder. "Given my own experience entering the STEM industry, I know there is room for more of us. We need to make it clearer to women that they have the flexibility and potential to create all types of great businesses."
UENI's research has also revealed that Greater London is becoming a less attractive location for women starting a business. Instead, Scotland, northern cities and parts of the Midlands are becoming go-to areas for women launching new businesses.
In this survey, London ranks ninth in the UK for female entrepreneurs - just 33% of SME owners surveyed in London are women, compared to more than 40% in towns like Derby and Doncaster.
Scotland is the best UK nation for female entrepreneurship, having the overall highest level of women running businesses, while Northern Ireland has the lowest number of female business founders.
Looking at the types of businesses women are running in 2020, UENI has found that female entrepreneurs account for 76% of the hair beauty sector, and own the majority of gift and wellness-related businesses. Just 5% of construction firms are run by women.
Another new study has also investigated the best UK cities for women to start a business in 2020. Paymentsense has ranked 25 cities based on the number of females employed in each city, the average gender pay gap percentage, the percentage of female business owners per city, start-up survival rates, cost of living, rent price and median weekly pay.
Based on these factors, the findings show that the ten best cities for women entrepreneurs are: Milton Keynes, London, Swansea, Sheffield, Leeds, Reading, Stoke-on-Trent, Derby, Coventry and Hull.
International Women's Day takes place on 8 March 2020. This year's theme is #EachforEqual and organisers are sending the message that equality is not a women's issue, it's a business issue. It is calling for gender equal boardrooms, gender equal government, gender equal media coverage, gender equal workplaces, gender equal sports coverage and "more gender equality in health and wealth".
Written by Rachel Miller.