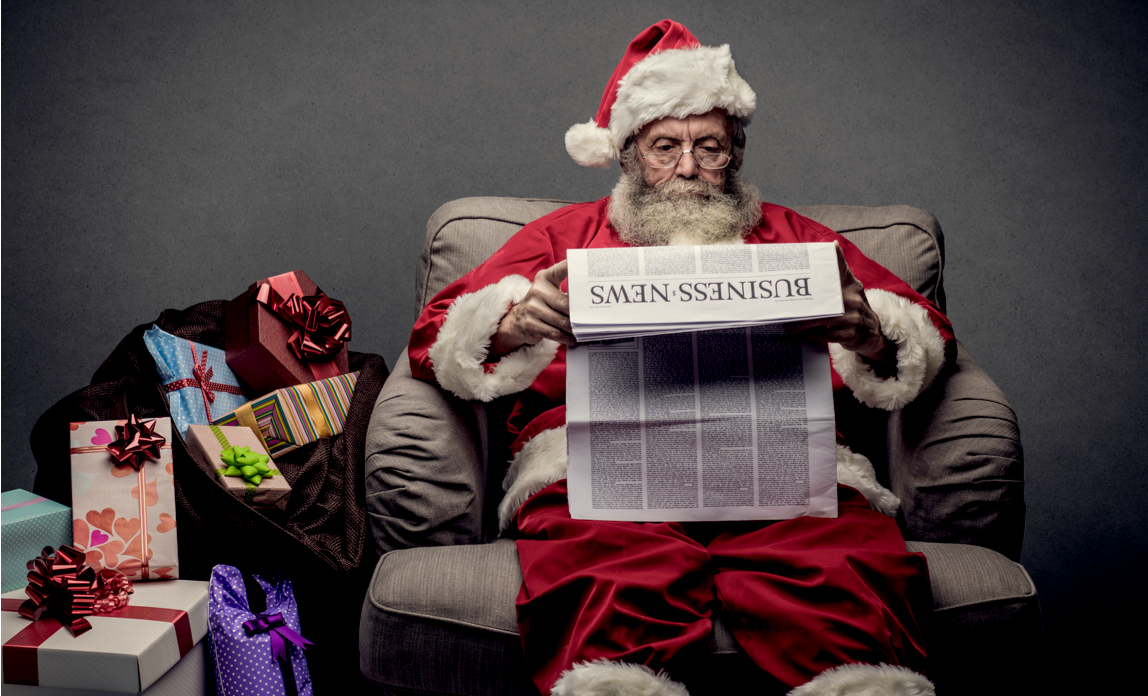 In the final legal news round-up of 2018 there are refunds galore, just in time for that Christmas splurge - check if you're eligible for either a business rates or stamp duty refund below. Plus, advice on how to ensure your employees use up their holiday before the end of the year, yet another ruling in favour of workers in an employed/self-employed case and an ex-employee convicted of hacking in a prosecution brought by the ICO.
Use it or lose it! Employers must alert workers to outstanding holiday entitlement and encourage them to take it if they want to stop them carrying it forward
UK employers whose employment terms prevent workers from carrying forward the four weeks' holiday they are entitled to under EU law must tell workers about their outstanding holiday entitlement and encourage them to take it, or risk those terms being ineffective following an EU ruling.
To stop workers from carrying the four weeks' holiday they are entitled to over into the next holiday year, employers should set up systems and procedures to ensure that:
all workers entitled to paid holiday are informed of their entitlement in good time to act on it
any who may fail to take their holidays in full in a holiday year are informed of their outstanding entitlement and positively encouraged to take it
they are informed that they will lose their holiday if they do not, and
payment in lieu is made to any worker who leaves but has not taken their full holiday entitlement
For example, employers could write to all workers who have not taken all the four weeks' holiday, at least three months before the end of the holiday year, telling them how much holiday they have left and encouraging them to take it. Employers could also ask supervisors/managers to find out why workers have not booked leave, as it may be a symptom of some other issue. Keeping records of such action and responses from the worker would be a wise move.
Case ref: Kreuziger v Land Berlin and Max-Planck-Gesellschaft v Shimizu Case C-684/16
Living Wage and National Minimum Wage rates confirmed for April 2019
The government has confirmed new living wage and national minimum wage rates from 1 April 2019.
The new living wage and national minimum wage rates for the different categories of worker will be:
The living wage rate for workers aged 25 or over increases to £8.21 per hour (currently £7.83)
The national minimum wage rate for employees aged 21 to 24 increases to £7.70 per hour (currently £7.38)
The rate for employees aged 18 to 20 increases to £6.15 per hour (currently £5.90)
The rate for employees who are under 18 but above the compulsory school age (and not apprentices) increases to £4.35 per hour (currently £4.20)
The rate for apprentices increases to £3.90 (currently £3.70)
The accommodation offset increases to £7.55 per day (currently £7.00)
Employers should budget and prepare for the new rates which come into effect from 1 April 2019.
Employed or self-employed? A further employer is told its 'self-employed' contractors are workers and entitled to basic employment rights
A private hire firm used drivers to provide taxi and transport services to private and business customers. The drivers used the firm's vehicles which carried the firm's branding. They would log onto the firm's IT system from their vehicles using a hand-held device. Jobs would then be allocated to them, and the drivers had to indicate immediately whether or not they accepted the job by pressing a button on the device.
If a driver failed to respond immediately or rejected a job without giving an acceptable reason, they could be sanctioned. Initially, their controllers vetted the reasons given, and if a controller did not think a particular reason was acceptable, the matter was referred to a supervisor.
There were written agreements with each driver stating that they were self-employed contractors, not employees or workers.
However, the drivers claimed that they were 'workers' and therefore entitled to basic employment rights, such as holiday pay and the national minimum wage. They also argued that they were working the whole time they were logged onto the firm's system, even when not actually on a job, for the purposes of the working time rules/national minimum wage. The employer said the written agreements meant the drivers did not have these rights.
The Employment Appeal Tribunal (EAT) agreed with the drivers, saying that the Employment Tribunal had applied the right 'realistic and worldly wise' test used in previous rulings. According to that test, it is appropriate for a court or tribunal to decide whether the terms of a written agreement represent what was actually agreed by the parties and, if not, to glean the true agreement from all the circumstances of the case, taking into account the relative bargaining power of the parties.
Applying that test, the drivers were workers and entitled to basic employment rights as claimed. The EAT also ruled that time spent logged onto the device was all working time for which the drivers must be paid. Being available - ie logged on - was an essential element of the service the drivers were providing to the firm.
Businesses which generate and pass work to third party individuals to carry out, treating them as self-employed, should consider whether they may in fact be 'workers' under UK law and entitled to basic employment law rights, following the latest ruling on this issue
Case ref: Addison Lee Ltd v Lange & Ors [2018] UKEAT 0037_18_1411
Directors and employees planning to benefit from Entrepreneurs' Relief should check their eligibility following budget changes
Directors and employees of limited companies hoping to claim Entrepreneurs' Relief (ER) against capital gains tax (CGT) when selling their shares, should check whether changes to the qualifying conditions for claiming ER made by the recent budget have affected their eligibility.
ER significantly reduces the rate of CGT payable by individual directors and employees to 10% on a 'material disposal' (or a disposal 'associated' with a material disposal) of their 'qualifying' ordinary company shares, provided certain conditions are met. The relief also applies if they meet these conditions in relation to a holding company of a trading group.
Previously, it was a condition of claiming ER that the director or employee had to hold at least 5% (in nominal value) of the ordinary shares, and 5% of the voting rights in their company for at least 12 months before they disposed of their shares.
The recent budget stated that for disposals from 6 April 2019, the director or employee must satisfy a further 5% 'economic test'. This means they must also hold an interest of at least 5% in both the distributable profits of their company and in its assets on a winding up. The 5% is calculated by reference to the amounts available for distribution to 'equity holders'. Furthermore, both the existing and new 5% rights must be held for two years rather than 12 months.
Shareholders of a company which finds that its existing capital structure is a problem could consider changing that structure so they can satisfy the necessary conditions - though they may have to wait a further two years from the date of change before they can apply for ER. Also, reorganising the company's share capital may itself have tax consequences, and there is no sign of any concession which would disapply those consequences in these circumstances.
Note, however, that the budget contains special rules for Enterprise Management Incentive share schemes, which could make holding shares through such a scheme an alternative option for directors and employees for whom ER is no longer available.
Hacking law used to send ex-employee to prison for accessing employer's data without permission
Employees tempted to access their employer or ex-employer's data without authorisation could face a prison sentence if the ICO decided to prosecute for hacking instead of obtaining data without consent, following a recent case.
An employee of a motor repair company logged onto an IT system used by both his current and former employer using the password of an individual employed by his former employer. This gave him access to the personal data of thousands of customers of the former employer, including their names, phone numbers, car details and accident information. He used the data to make unsolicited sales calls to them in his new job.
His old employer became suspicious when there was an increase in complaints of nuisance phone calls from its customers. The employer discovered what he was doing and reported him to the Information Commissioner's Office (ICO) which is responsible for protecting individuals' personal data.
Although his conduct amounted to 'obtaining data without consent' under the Data Protection Act, the maximum penalty is a fine so, for the first time, the ICO decided to prosecute the employee for 'unauthorised access' (ie. hacking) under the Computer Misuse Act because of the "nature of the criminal behaviour" involved. This offence carries a maximum prison sentence of two years. The ex-employee was sentenced to six months in prison.
Although the offender was an ex-employee, the ICO could also prosecute an existing employee for hacking if they accessed personal data from parts of their current employer's own IT system without authority.
Are you eligible for a business rates refund?
Retailers with hole-in-the-wall ATMs at their premises should consider whether they are entitled to a business rates rebate, following a recent Court of Appeal ruling
In 2013, retailers were told they should have been paying separate business rates for hole-in-the-wall ATMs built into their premises, and were served with demands for rates backdated to 2010.
However, the Court of Appeal has now ruled that such ATMs should not be rated separately because ATMs on the external walls of premises were not separate 'hereditaments' for rating purposes.
The decision could be appealed to the Supreme Court, but for now, many retailers who have paid rates on ATMs may be entitled to rates rebates.
Are you eligible for a stamp duty refund?
First time buyers of shared ownership property in England and Northern Ireland should consider whether they are entitled to a refund of stamp duty land tax, following the recent budget.
Property is in shared ownership if the purchaser buys only a proportion of it, paying rent to the owner on the remaining proportion - usually a housing association. The buyer only has to raise their proportion of the purchase price, making it easier to get a mortgage.
First time buyers of shared ownership property in England and Northern Ireland (but not Wales or Scotland) now enjoy a new stamp duty land tax relief which was announced in the recent budget. Under new rules, first time buyers in these circumstances will not pay any stamp duty land tax on the first £300,000 of the purchase price of any home costing up to £500,000.
The good news for existing first-time buyers of shared ownership is that this new relief is back-dated to 22 November 2017, so they may be entitled to a refund.