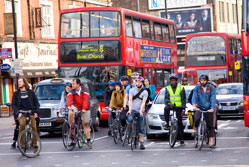 London Underground is holding last ditch negotiations with unions in an effort to avoid two 24-hour tube strikes planned for this week.
The strikes are over pay and working shifts as the Mayor of London, Boris Johnson, and London Underground attempt to bring a 24-hour service to London's underground system.
If the tube strikes go ahead, it will mean yet another wave of disruption for businesses since the 24-hour service was announced back in September 2014. The Federation of Small Businesses estimates that the strikes in February cost businesses up to £600 million, with cancelled meetings and staff absences accounting for a large proportion of the losses.
So what are your rights when strikes hit? Do you still have to pay employees who don't make it in to work?
As an employer, you are not automatically obliged to pay your employees if they can't work.
Much will depend on your contracts of employment and any policies that you may have to cover absences.
These may set out how much effort you expect employees to make in order to get to work in the event of strikes, bad weather or other events. Can they walk, cycle or drive to work if they normally take the tube?
Your policy may also set out whether they will be paid if they cannot make it in to work, or whether they are expected to take unpaid leave or holiday. Having a clear policy avoids misunderstandings and disputes and so can save you money.
With advance notice, it may be possible for some workers to carry out their duties remotely or from home. You could allow employees to alter the place or times of work, perhaps starting and finishing early to avoid the traffic or queues for buses, making up hours at another time. This option could allow your business to keep functioning.
When making such arrangements, you must make sure you do not discriminate against any of your workers. Furthermore, if employees decide to work from another location, you must make sure that health and safety obligations are met and that the location and equipment are suitable for the work being done.
You should also consider whether it is unsafe or too difficult for employees to come to work. Expecting an employee to come in to work unreasonably could amount to grounds for a grievance claim, so caution is advised. Firing someone for not turning up could land you in hot water – unless there is a pattern of absence to back your decision up.
Generally speaking, if there's travel disruption employers can ask staff to take paid holiday (annual leave) if they give notice that is at least double the length of time they want employees to take in annual leave. So for one day's annual leave it would be two days notice.
That said, it's worth using your discretion and consider paying your employees as a gesture of goodwill – after all, it isn't their fault if they can't make it in and keeping your staff happy is good business practice.
Whatever you decide, you should make it to clear what you expect. For example, that employees should make every effort to make it in to work; that they should communicate with you if it is not possible; and informing employees whether they will be paid if they don't show up or whether the absence will be taken from their holiday allowance.