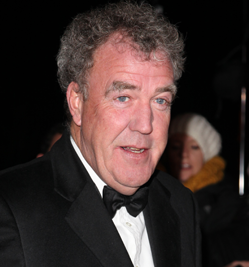 If reports are to be believed, it's probably the highest price anyone has ever paid for a steak dinner. You probably already know the story (how could you have missed it?), but let's remind ourselves...
As reported by The Telegraph et al, on 4 March former Top Gear presenter Jeremy Clarkson verbally abused and physically assaulted BBC producer Oisin Tymon. Why? Things turned nasty after Clarkson couldn't have a sirloin steak following a day's filming. Indeed, no hot food was available at the Simonstone Hall Hotel in North Yorkshire, with the 55-year-old Doncaster-born presenter not reacting favourably to the offer of a cold platter.
According to The Telegraph, "during a 40-minute rant" Clarkson called Tymon "a lazy Irish ****" and threatened to get him sacked, before punching him. Witnesses allege a string of expletives during the fracas/mêlée (or "dust-up" as fellow Top Gear presenter James May quaintly called it), which reportedly left Tymon with a cut lip that required hospital treatment.
Rosé wine
According to the BBC's official report into the incident, the "physical attack lasted 30 seconds and was halted by the intervention of a witness". The Mail said the Top Gear "production team had been scheduled to take a helicopter to their next location after filming, and return to the hotel at 8pm. However, Clarkson kept the helicopter waiting for three hours while he sat in a pub drinking rosé wine, Channel 4 reported."
Eventually, because the hotel chef had gone home for the evening, its general manager prepared a £21.95 steak for Clarkson, "to calm him down", although the broadcaster would soon pay a far higher price. Clarkson himself called Danny Cohen, director of BBC television, to report the incident, and reportedly tried to apologise to Tymon many times via text, email and in person.
Racism controversy
On 10 March it was announced that Clarkson had been suspended from Top Gear (the rest of the hugely popular series has since been cancelled, despite furore from fans of the show and no lesser a figure than David Cameron, Clarkson constituency neighbour and friend, claiming his children would be "heartbroken if Top Gear was taken off air").
Clarkson's soon to expire BBC contract will not be renewed. He was already on a final warning, following claims he deliberately used a racist word during filming Top Gear's Burma special in 2014. Amazingly, this came just months after calls for Clarkson's sacking for allegedly using another racist word in an outtake leaked to the media. Outspoken Sun columnist Clarkson is well known for his un-PC remarks and opinions, of course, including once saying striking public sector workers should be "taken outside and executed in front of their families".
Key lessons
Clarkson is one of the world's most famous TV presenters, thanks to Top Gear's enormous global popularity (watched in 214 countries, it makes an estimated £50m a year for BBC Worldwide in overseas sales and £15m from events and Top Gear Magazine). He's reported to have earned "tens of millions of pounds from the global licensing of the Top Gear franchise". Many new lucrative opportunities will no doubt come Clarkson's way and the BBC has said Top Gear will continue without him.
This latest unsavoury episode has made Clarkson even more of a 'Marmite' personality. He's loathed and liked with equal passion (more than a million people signed a petition calling for his reinstatement), but whatever his popularity and undoubted broadcasting talent, clearly his behaviour in March was totally unacceptable (which he accepts).
So, what lessons does it offer employers? Well, you need to have a robust disciplinary procedure. Your employees must understand what constitutes gross misconduct (this should be explained within your employment policies and possibly a workplace code of conduct) and know what action your business will take if they cross the line. Everyone should know that violence, abusive or racist language and all forms of unlawful discrimination have no place in your business. But sometimes even having all of the above won't ensure acceptable behaviour, so, your should remind yourself how to lawfully terminate a employee's contract. And on that bombshell…
Blog written by freelance editor, copywriter, journalist and Start Up Donut editor Mark Williams.
Photo: Featureflash / Shutterstock.com