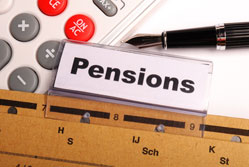 Are you an employer in the UK? If yes, you need to be prepared for the new law surrounding workplace pensions. Maybe you've already heard of auto-enrolment but think it won't affect you as you only have a couple of employees. Or, as it's being phased in gradually, you don't need to worry about it for ages. If you do nothing, though, you may be caught out. The Pensions Regulator will always try and work with businesses to help them become compliant but it will issue enforcement notices that can lead to financial penalties for employers that don't comply with their duties.
Staging dates (the date auto-enrolment starts) have already started for larger businesses (from 1 April 2014 – 1 April 2015 for businesses with 50 or more employees). Smaller businesses with fewer than 49 employees will need to start auto-enrolment between 1 August 2015 and 1 April 2017. This sounds like a long way off but The Pensions Regulator is advising that it can take at least a year to prepare properly for auto-enrolment. The first step is to check your staging date so you know when you need to start enrolling your staff. You can then use a planner on The Pensions Regulator website to help guide you through the process.
There is lots of information available to businesses about auto-enrolment pensions. You may view it as another unwelcome administrative burden on your business but the best way to lessen the impact is to get ahead of the game and find out what you need to do now.