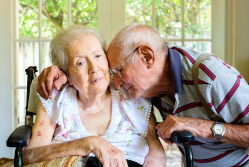 Anyone who loves or loved a person affected by dementia will know just how cruel, indiscriminate and devastating it is. And the scale of the problem is getting significantly worse, with many commentators describing it as a ticking timebomb.
National charity Dementia UK estimates that 42% of the UK population has a friend or family member with dementia, with more than 820,000 people in our country having dementia and that number expected to rise to one million-plus by 2030. Alzheimer's Research UK says dementia now costs the UK economy £23bn per year – twice as much as cancer and three-times as much as heart disease.
According to Alzheimer's Society: "The word dementia describes symptoms that may include memory loss and difficulties with thinking, problem-solving or language. Dementia is caused when the brain is damaged by diseases such as Alzheimer's disease or a series of strokes. Dementia is progressive, which means the symptoms will gradually get worse."
Dementia Challenge
When launching the Government's Dementia Challenge in March 2012, Prime Minister David Cameron said: "We've got to treat this like the national crisis it is. We need an all-out fight-back. Dementia is a terrible disease and it's a scandal that we, as a country, haven't kept pace with it." The Dementia Challenge seeks to significantly improve dementia care and research by 2015, as well as create communities that better understand how to help those with dementia, as well as their families and carers. Businesses large and small have a huge role to play in this.
In early August, Public Health England and Alzheimer's Society released a new report into the implications of dementia for UK businesses, calling on employers to "adapt their working environments to support the increasing numbers affected by the condition".
It estimates that by 2030, dementia care obligations will cost UK businesses more than £3bn. If the number of people with dementia rises as predicted to 1.09m, the report says it will have a "huge impact" on businesses because "the number of workers reducing their hours, changing work patterns or even quitting, due to the demands of caring, is expected to grow".
Counting the cost
The number of people forced to leave their jobs to care for a loved one with dementia is expected to increase from 50,000 this year to more than 83,000 by 2030. Yet, says the report, if "companies increased their employment rate of dementia carers by just 2% over the years to 2030, for example, by offering more flexible terms of employment, the retention of these skilled and experienced staff would deliver a saving of £415m". The cost of skills and experience lost from the workforce because of dementia will rise from some £628m this year to £1.16bn in 2030, experts say.
According to the report, many businesses are already taking action, with 8% attempting to "accommodate" staff members with dementia, and 52.1% considering doing so in the future. Twenty major businesses (eg M&S, Barclays, BT, Argos, Lloyds Banking Group, Lloyds Pharmacy, etc) have already pledged to support staff and customers with dementia.
Not being dementia friendly could harm your sales, especially if you're a retailer. According to the report: "The spending power of households affected by dementia [will] double to £22.7bn by 2030, from £11bn in 2014", with 62% of people with dementia wanting shops to have a "greater understanding of the condition", and 23% having "given up shopping since being diagnosed" because shops don't sufficiently cater for their needs.
Failure to change
Alzheimer's Society chief executive Jeremy Hughes says: "Thousands of people affected by dementia are forced to give up work and are denied a lifeline because of the failure of organisations to change the way they do business. From the shop floor to boardrooms, dementia affects every workplace; from people struggling with the early symptoms of memory loss at work, to those juggling a job while caring for a loved one. As the condition touches the lives of more people, businesses must gear up to support all people with dementia – staff and customers alike."
In light of the potential effects of this significant increase in dementia, family-owned firms must also carefully consider whether their management and succession plans are sufficiently robust. And maybe all of us need to give much more serious consideration to power of attorney, so that someone we trust can make important decisions on our behalf, after dementia has so cruelly robbed us of that option.
Blog written by Start Up Donut editor and freelance content writer Mark Williams.