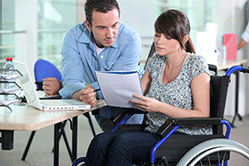 Employers should tread with caution when managing disability-related sickness and leave. So what are the key areas to consider?
When is a sick employee disabled?
For discrimination law purposes, a person is disabled if they have a physical or mental impairment that has a substantial and long-term adverse effect on their ability to carry out normal day-to-day activities. This definition is contained in section 6(1) of the Equality Act 2010.
In some cases, it may be obvious to a manager whether the employee is disabled, in other cases it may be necessary to obtain a medical report to consider the extent of any 'reasonable adjustments' required by the disabled employee.
Distinguishing disability-related leave and sickness
Disability leave can be used when the employee needs to be away from work to attend medical appointments or become familiar with reasonable adjustments. Disability leave can be managed in a similar way to general leave, but it should be treated as a priority.
Distinguishing between general sickness and disability-related sickness absence is good practice, because it helps to remove disadvantage experienced by people with disabilities. It is recommended that disability-related sickness is not included in the employee's total sickness record. If the sickness is included in the employee's total and then influences decisions relating to promotion, references or selection for redundancy, this could result in a potential disability discrimination claim under the Equality Act 2010.
Reasonable adjustments to help facilitate a return to work
A range of adjustments can be made to assist a person with disabilities in their return to work. Common adjustments include:
A phased return to work, which could involve an employee coming back to work part time, with their hours increased subsequently.
Purchasing equipment that assists an employee to carry out their duties.
Relocating a workstation to somewhere that it is easier for the employee with disabilities to carry out their role or providing them with a car parking space.
Varying the employee's start and finish time, for example, if an employee has ME and they find it difficult to get up in the morning because of extreme tiredness.
It is often advisable to agree that adjustments be made for an initial trial period, after which both parties should review their effectiveness and discuss any changes.
Dealing with disability-related, short-term sickness absence
Don't make assumptions about what the returning employee can and cannot do.
Talk to the employee about their impairment. Find out what can be done to assist them.
Carry out a full assessment of their capabilities.
Consider what reasonable adjustments can be made.
Perform a return to work interview with the individual when they return to work.
Keep a record of relevant actions to maximise the support provided to the person with a disability.
Blog provided by Bob Teasdale, business development manager for My HR Toolkit.