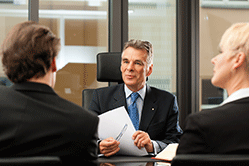 A settlement agreement (previously called a compromise agreement) is a legally binding confidential agreement between an employer and employee. A severance payment is typically given in return for their agreement not to pursue any employment tribunal or civil courts claims arising from their employment or its termination. A settlement agreement can provide additional protection for employers, including reaffirming post-termination restrictions and duties of confidentiality, while preventing employees from bad-mouthing their ex-employer.
When might an employer use a settlement agreement?
For example, when faced with an employee with work performance or misconduct issues and the employer is concerned about instigating formal performance or disciplinary procedures. They might not be confident they will achieve the required improvement within a reasonable period. In other circumstances too, settlement agreements are useful because they offer employers a quick and clean method of terminating someone's employment without having to undertake a long and difficult redundancy, disciplinary or capability process, which usually involves substantial management time.
Are there any risks involved?
In certain circumstances, there is substantial risk. For example, if you offer a settlement agreement without having raised concerns about the employee's work performance or conduct previously. You may try to claim that discussions and related documents are "off the record" or "without prejudice", but you are not entitled to treat them as such. If the employee refuses, they may argue the relationship of trust and confidence between you has been irretrievably eroded, and use discussions and any related documents as evidence in a claim for constructive dismissal and/or discrimination (if appropriate).
The ACAS guidance on settlement agreements sets out inappropriate behaviour when employers offer a settlement Agreement that would entitle an employee to refer to conversations and submit documents as part of an employment tribunal claim.
How much should an employer offer to pay under a settlement agreement?
There is no prescribed sum, it will depend on why the employer wants to terminate, the terms in the employee's contract and any potential claims they may have against you. You're effectively compensating them for not filing an employment tribunal claim, as well as terminating their employment. At the same time, you, the employer, needs to ensure that all contractual entitlements (eg notice or payment in lieu, holiday entitlement, etc) are taken care of. Given the legal implications, it's wise to seek professional legal advice before making such an offer. For added peace of mind, the settlement agreement should also be professionally drafted.
When should the employee expect to receive the money?
For ex gratia payments, usually between 14 and 21 days of the agreement being signed, but employers may want to pay salary, accrued holiday and bonuses or commission through the payroll on the usual payroll date.
Who pays for the legal advice an employee has to take on a settlement agreement?
It's in the employer's interests for the employee to sign the agreement. For this reason, in the overwhelming majority of cases, the employer contributes £250-£500 plus VAT towards the employee's legal fees in having to seek independent advice. In other cases, employers might not offer any contribution, for example, where there are strong grounds to dismiss the employee if they won't sign the agreement.
What if an employee refuses to sign the settlement agreement?
There is a risk they may use the settlement agreement and conversations about it as evidence in bringing a grievance, while resigning and claiming constructive dismissal and discrimination.
Blog supplied by Julian Cox, Partner and head of the employment law team at London-based commercial law firm Fletcher Day.