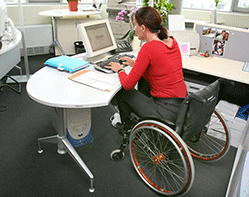 Last week, following the launch of the London 2012 Paralympics, there was an excellent piece on the Guardian website that examined workplace obstacles faced by people with disabilities.
According to journalist Will Henley, there are 11m people with disabilities in Great Britain and only 48.8% of those of working age have jobs, compared to a national average of 77.5%. Is this shameful evidence that discrimination still exists in the workplace towards people with disabilities?
Lest we forget, employers must avoid discrimination when recruiting and managing their staff. Under the Equality Act 2010, employers might need to make 'reasonable adjustments' for employees with disabilities, perhaps by providing modified equipment or altering working practices and environments.
Even those people with disabilities who find jobs have limited options, it seems, with "non-disabled staff three-times more likely than disabled counterparts to earn over £80,000 and twice as likely to become board-level directors," according to a 2010 survey by Radar (the Royal Association for Disability Rights), which has now become Disability Rights UK.
According to Disability Rights UK, people with disabilities are frequently overlooked for promotion. Their employer is also more likely to treat them unfairly, that's if things have stayed the same since 2008, when the Fair Treatment at Work Survey suggested that 19% of people with disabilities had experienced unfair treatment at work, compared to 13% of employers who weren't disabled.
By law, of course, employers mustn't discriminate without justification against anyone on grounds of disability, which is defined as a "physical or mental impairment that has a substantial and long-term adverse effect on the ability to carry out day-to-day activities". Employers must investigate whether a person could carry out the work following 'reasonable adjustment'.
The test of discrimination is not what the employer or business owner intends, but rather how it affects those on the receiving end. A business might not realise it is discriminating, whether that's direct or indirect discrimination.
Morality aside, being a more inclusive business can be good for your bottom line. According to the Office for Disability Issues (ODI), disabled people contribute more than £80bn a year to the UK economy and can make up a fifth of the average UK business's customer base. "Despite these compelling figures," it says, "the needs of disabled people are poorly addressed by most UK businesses.
"By ensuring disabled people have the same opportunities to use your business as everybody else you will gain new customers, increase customer loyalty and enhance your reputation." You can download (PDF) a free guide published by the ODI entitled Growing your customer base to include disabled people – A guide for businesses, which tell you how you can make your business more accessible to people with disabilities.
Perhaps the greatest legacy of the London 2012 Paralympics will be encouraging business owners and others with outmoded misconceptions about people with disabilities to change their views and become much more inclusive.