October 18, 2013
Radical plans to cut "pointless" EU red tape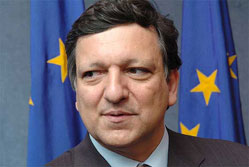 New proposals to cut EU red tape have been welcomed by David Cameron.
The business-led recommendations are intended to cut back on what Cameron called "burdensome" and "pointless" EU regulation and help European businesses to thrive in the global race.
The business taskforce report – Cut EU red tape – contains over 250 ideas for EU reforms. Prime minister David Cameron said: "All too often EU rules are a handicap for firms, hampering their efforts to succeed in the global race. Business people, particularly owners of small firms, are forced to spend too much time complying with pointless, burdensome and costly regulations and that means less time developing a new product, winning contracts or hiring young recruits. I'm determined to change that and to get the EU working for business, not against it."
Responding to the report, European Commission president José Manuel Barroso (pictured), said: "Common rules are essential to make the single market work properly but I also want to make sure that the EU does not meddle where it should not and member states do not add additional burdens ("gold plating"). We have already acted on a range of specific issues where we have heard businesses' concerns. I welcome all ideas for reducing unnecessary regulatory burdens."
UK business groups have welcomed the report. Dr Adam Marshall, director of policy and external affairs at the British Chambers of Commerce (BCC), said: "For too long, both Brussels bureaucrats and the European courts have created red tape and restrictions that hold British business back."
Alexander Jackman, head of policy at the Forum of Private Business (FPB), commented: "Today's report highlights just some of the many of EU regulations that small businesses spend vast amounts of time and money complying with. We welcome the report. However, identifying harmful regulations and suggestions of reform to the EU is just the beginning. The real challenge lies in being able to bring about real change."
The European Commission and European Parliament must "Think Small First", said John Allan, national chairman of the Federation of Small Businesses (FSB). "The burden of EU regulation falls most heavily on the smallest businesses and a different approach is needed."
Image: openDemocracy on Flickr
Related resources: