January 03, 2014
Flexible workers are "less stressed"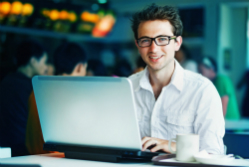 More employees are suffering from stress-related illness since the downturn began – but new research finds that flexible working can significantly ease workplace worry.
According to a new 4,000-strong business poll from Regus, more than half of employers have reported that they are seeing more stress-related illness since the downturn. But 69% of respondents say flexible working can reduce work-related stress.
Stress-related illness can worsen or cause a range of health conditions, including depression and heart disease. Research commissioned by Regus in 2013 found that 43% of UK professionals felt their stress levels had risen in the past 12 months. Now, this latest poll finds that 38% of us are actually losing sleep worrying about work.
In addition, 45% of employers said that stress has caused an increase in absenteeism, damaging business productivity as well as staff wellbeing. Other findings include:
35% of respondents are worried about losing their job;
38% feel less confident about the sector they work in;
39% report that their family and friends have noticed they are stressed by work;
37% say that stress is damaging a co-worker's personal relationships.
John Spencer, UK CEO at Regus, said: "This report confirms that the length of the economic downturn and stuttering recovery have put immense strain on businesses and their staff." The most effective way to tackle this, he said, is to "extend flexible working options, with seven in ten workers convinced that this increases wellbeing and reduces stress. This trend is in evidence across our national network, as employers recognise the benefits of letting staff work at more convenient locations."
Related resources: