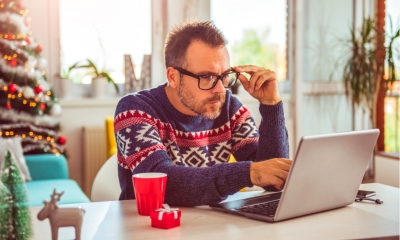 A new poll of office workers has found that 75% would like the chance to work from home or change their hours in the run-up to Christmas.
Seareach polled over 3,000 office-based employees to find out if they wanted to change the way they worked in the run-up to Christmas. The findings reveal that 75% of respondents agreed that they would "like to have more flexible working over the Christmas period".
Half (51%) of those who wanted more flexible working wanted the opportunity to work from home and 49% wanted the chance to work flexible hours.
Stuart Jailler at Seareach said: "Our research this year has shown that a lot of office-based staff would like the option to work from home, not only to save time and money, avoiding the commute but also to be able to spend more time with their families.
"If companies can look at allowing flexible working hours and the option for staff to work from home, especially at busy periods such as Christmas, it can make for a more productive office environment because staff will be happier and more focused. We also know there are concerns for employers, such as security issues, fairness, lack of teamwork, productivity and perceived poor reflection, but there are ways to combat these concerns."
The report highlights the most important factors for successful flexible working arrangements:
Regular communication, using apps to track work completed and hours undertaken;
Technology including laptops and good wifi at home as well as access to online tools and apps such as such as Slack, Trello and Skype;
Security, including strong password and log-in procedures, encrypted emails and ring-fenced data.