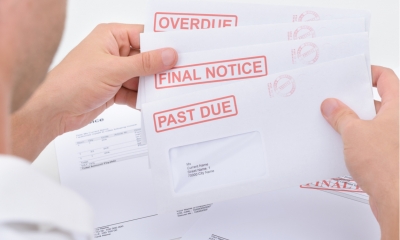 New research has found that two in five small business owners are taking legal action against customers that haven't paid them on time.
A study by Hitachi Capital Business Finance has found that there has been a 22% rise in the number of small businesses spending time and money on legal action to chase a late payment (rising from 31% to 40% since 2018), and a 14% increase in SMEs being unable to pay suppliers because of late customer payments (up from 31% to 36%).
The research also reveals that many bosses are foregoing their own salary in order to ensure their employees get paid on time. One in five business owners (20%) are not paying themselves because unpaid invoices are affecting their cashflow. This number doubles for smaller ventures with less than ten employees (40%).
The cashflow challenges that result from chasing late payment has forced more than one in three small businesses (35%) to seek short term-borrowing in order to make ends meet.
"It is disheartening that so many small business owners feel impeded because their customers are not paying on time and, for many, this wreaks havoc with their cashflow," said Gavin Wraith-Carter, managing director at Hitachi Capital Business Finance. "The fact many small business owners are sacrificing their own salary also means they are literally taking their business worries home with them."
Other key findings of the report include:
62% of small businesses are affected by late payments;
38% of business owners said late payment placed a huge risk on their supply chain;
31% said their crucial relationships with suppliers, clients and customers were "greatly affected";
44% of sole traders said they were worried about incurring bank charges as a result of short-term borrowing.
A recent report published by IPSE has found that late payment is having a detrimental effect on the work-life balance of the UK's 4.9 million freelancers. Its findings show that 21% of freelancers spent their summer holiday chasing late payment rather than taking time off.
Inna Yordanova, senior researcher at IPSE and author of the report, said: "Late payment is a major factor holding many freelancers back from a good work-life balance. Chasing late payments is creating extra stress and taking up disproportionate amounts of freelancers' time - an average of 20 days a year ? We're calling on the government to give more powers to the small business commissioner to clamp down on late payment and even fine the worst offenders."
Written by Rachel Miller.