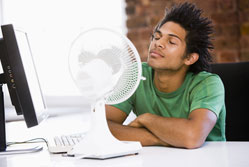 The Met Office has announced that today has officially been the hottest day of the year. And temperatures have not been this high for at least ten years.
The prospect of a week-long heatwave is great when you are off work and you can lounge in the sunshine. But squeezing into an overcrowded bus or tube, or sitting in stationary traffic, when you are already hot and bothered is a sure fire way to get you hot under the collar before the day has even started.
The Met Office and Public Health England have warned that the current spell of hot weather could be harmful to some vulnerable people and Network Rail have announced that there will be speed restrictions on some lines due to the risk of buckled tracks and line-side fires.
This could have a real impact on your workers if they use public transport to get to work. So what can you do to minimise the impact of the heatwave on your staff?
Warn staff about the risks posed by this weather. Whilst we all enjoy the sunshine, it can cause serious health problems. Staff should wear suitable clothing, use sunscreen if they work outside, and keep themselves suitably hydrated. Workers should avoid the peak hours of sunshine when the UV factor is at its highest.
Advise those with Asthma or other serious health problems to take suitable precautions.
Prepare for thundery weather – the Met Office has warned of sudden, heavy downpours that could cause localised flooding.
Consider allowing staff to alter their working hours temporarily. Perhaps they could start and finish work a bit earlier to avoid crowded and overheated buses and trains.
Take into account the possible delays caused by 'go slow' restrictions on the trains and tubes. Remind employees to allow extra time to get to and from home or business meetings and be ready to be flexible on start times if employees use public transport to get to work.
Get company vehicles serviced to ensure that air conditioning, windows and sun roofs work properly.
Make sure staff stay properly hydrated. Provide cold drinks to help staff stay cool.
Allow extra or longer breaks so that employees can cool down in a shady place.
Open windows and close curtains or blinds to help keep your offices or premises cool.
Site desks away from direct sunlight to avoid heat and glare.
Hire fans or air conditioning equipment to keep the heat under control. Although there aren't maximum or minimum legal working temperatures, you should aim to keep the workspace comfortable, ie at a 'reasonable' temperature. What is comfortable will depend largely on what your employees are doing, with lower temperatures recommended if your employees are doing strenuous work.
Insulate any hot pipes or equipment – such as computer servers – which can add to the heat.
Turn off any equipment that you do not need.
Relax your dress code, if you have one. It is still possible to present a smart appearance without the need for a suit and tie.
Allow staff to work from home if your IT or systems make it possible.
Consider using the good weather to your advantage. Heatwaves like this are a rarity – the last time we had these temperatures was back in 1996. You could plan an impromptu company picnic after work, a few drinks in a local beer garden to thank staff for their hard work or a game of rounders in a nearby park as a team building exercise.