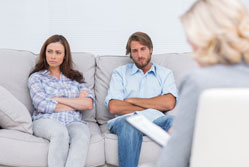 Since the introduction of The Children and Families Act 2014 there has been a significant difference in how family dispute cases are handled, most notably the encouragement and use of mediation.
Because of legislative changes, a separating couple must now demonstrate that they have attempted mediation by attending a MIAM (a Mediation Information and Assessment Meeting) before further proceedings.
This method of settling family disputes relies on both parties mediating with the end goal of forming a joint understanding with issues in dispute.
The benefits of mediation
Mediation can prevent children from getting caught in the crossfire of messy divorce proceedings. Where possible, parents try to keep the stress of court proceedings away from their children, but invariably they can have an impact, for example, a child's performance in school. Mediation can help to minimise this.
Mediation also allows you to reach a resolution with your partner instead of letting a court decide what should happen in the future.
Often mediation can be much quicker and less expensive than going to court.
When entrenched in court proceedings, parents may become too distracted by who is going to win and lose and may ultimately lose sight of what is in the best interests of the children.
Mediation offers a different approach 
Couples are asked to communicate with respect and understanding and come together to settle issues arising from their separation in a way that is in the best interests of the children (if children are involved).
Mediation provides a more informal setting to resolve disputes instead of the adversarial nature of court proceedings. Therefore, the key to successful mediation is successful communication that never loses sight of the children's needs and best interests. This will always be facilitated by a mediator, who will maintain a neutral stance throughout.
Common mediation misconceptions
Mediation is never about trying to get a separating couple to try and get back together. Mediation acknowledges that the relationship has ended and that the process moving forward is about resolving unsolved issues such as child maintenance. 
Some couples believe that mediation is a mere tick-box exercise that has to be fulfilled before having to attend court. This is also not true. If mediation proves successful and both parties can reach an understanding, there may be no need to go to court.
There is also a common misconception that mediation cannot cover all aspects relating to a separation, such as settling financial issues or disputes over property. Again, this is not true. 
Mediation can settle property and financial issues or disputes relating to children. If such things can be resolved through mediation and an agreement found between both parties, this can be agreed in a Memorandum of Understanding.
Copyright © 2105 Alun Jones. Alun is director of Cardiff-based niche practice Alun Jones Family Law and after training with Resolution (formerly the Solicitors Family Law Association) he became a family lawyer mediator.