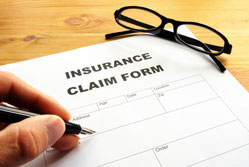 For business that offer specialist services or advice, professional indemnity (PI) insurance is a lifesaver. It covers claims made against you by people who allege a problem in your work has cost them money. As well as compensating the unhappy individual, your PI insurance will also cover any legal fees.
Sounds simple enough but to many businesses, making a professional indemnity insurance claim is a murky subject. Here's what you need to know.
Who can make a claim against you?
Anyone. But it'll mostly be your clients. This is usually because they're genuinely unhappy with your work, you've made a mistake or you've not done something you said you would do and it's cost them money (or they claim it has).
It's less common, but unrelated third parties can also make claims against you. These are most likely for things such as intellectual property theft or defamation - things that are in the public domain.
When can you claim on your PI insurance?
Whenever someone alleges you've been negligent or haven't done what you agreed to.
Claims take many forms. Specifically, you might be accused of: defamation; intellectual property theft; loss of documents; breach of contract or; negligent misrepresentation.
For example, a client may blame you if a project you worked on is unsuccessful and refuse to pay you. Or a competitor might allege you've copied their business model or website and make a claim against you. In both examples, your PI insurance will cover you whether the allegations are true or not.
How can you spot a potential claim?
A claim form or snarky letter from your client or their solicitor is usually all the heads up you'll need, and a strong sign you'll need to get in touch with your broker or insurer. But not all circumstances are as clear-cut and claims can creep up on the unwary. Subtle warning signs to look out for include refusal to pay bills, increasing tension in the working relationship with your client and unjustified criticism or complaints about your work.
When should you notify your broker of a potential claim?
As soon as possible. Not doing so can seriously harm the chances of your claim being paid. Insurers don't like surprises and they want to know as soon as you do that there might be a problem. This way, they can prepare and do their best to bat away spurious claims before they escalate.
Late notification is a common reason for claims not being paid. If your insurer thinks their position has been compromised because you've not got them involved early enough, they have every right to refuse to pay all or part of your claim. If you're unsure whether you should contact your broker or insurer, it's always best to err on the side of caution and do it anyway. You won't be criticised for being too cautious.
How does a claim affect my insurance?
If you notify your broker about several potential claims but they're never paid, this shouldn't affect your insurance. Your careful approach to business will likely reassure your insurer that you're risk aware and that they won't face any nasty surprises.
However, if your insurer has to pay out multiple times, this could increase both your premium and your excess. In extreme cases, your insurer might eventually withdraw cover altogether.  
Remember, if you do have a claim, a broker is on your side - not your insurer's.
That means they're ready to offer help and advice at any time, whether you're looking at a business-threatening claim or you just need someone to answer a quick question.
Copyright © 2014 PolicyBee, a professional insurance broker, specialising in cover for small businesses and start-ups.