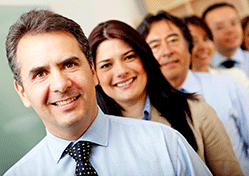 A healthy, happy workforce is a vital part of any successful business and small and medium-sized enterprises in particular thrive thanks to teams that work together, support one another and innovate to get the job done.
It's no surprise that employee health and safety is high on the list of priorities. It has a real impact on engagement and employee satisfaction, and by keeping your workers happy and healthy they'll be able to work hard without distraction.
But what are the rules around health in the workplace and what should you be doing to protect your best asset?
Health and safety
Employers should be well versed with the basics of health and safety. High-risk workplaces such as construction sites have more stringent rules because of dangers to their employees, but in contrast, if yours is a relatively low-risk workplace, such as an office, the guidelines are fairly straightforward.
If ever in doubt, look to resources like those on the Health and Safety Executive website. This government body should be your first port of call and can help you make sense of anything you're unsure about.
The Workplace (Health, Safety and Welfare) Regulations 1992 outlines the measures you're legally required to take as a business owner. Some of the important points include:
If your business employs five or more people, you're legally required to have a written health and safety policy that has been brought to the attention of everyone who works on your premises.
While the law doesn't require a minimum temperature, it does stipulate "temperature in workrooms should provide a reasonable comfort without the need for special clothing" - the HSE recommends at least 16°C.
Employers must provide adequate toilet facilities – that means they should be accessible, well ventilated, provide good lighting, should be securable from the inside and kept clean. As a rule, there should be one toilet for up to five staff.
You must provide access to clean drinking water, too, bottled or from a tap.
Minimise noise exposure - you can find out about the different types of noise in the HSE's guide to noise at work.
Health, wellbeing and insurance
Aside from basic health and safety checks, there are other things you need to do to ensure your employee wellbeing; the first is employers' liability insurance, which will help you cover the cost of compensation if anyone is ever injured on your premises.
Once you have the basics covered, look towards some other things you can do to keep your employees safe and well. Providing communal space to rest, adequate kitchen facilities and comfortable workstations all go just beyond the bare minimum but can make a big difference the wellbeing and work satisfaction levels of your employees.
Providing health insurance and other healthcare benefits can also help your employees manage their work-life balance and take care of any ailments or issues that might eventually have a negative impact on the way they work.
Blog supplied by Jamie Monteath on behalf of Bupa.