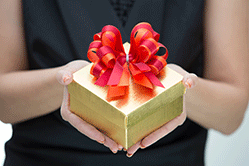 Many SMEs whose corporate hospitality has been at the heart of their customer service are now falling foul of 'super compliance'. Put simply, their concerns about the UK Bribery Act mean they have removed all customer gifts or goodwill incentives. While ensuring your staff are fully conversant with the Act is good business practice, it's equally as important to know what you are still able to offer clients.
Sensible promotional entertainment expenditure is not an offence under the Act, but the Serious Fraud Office may take action against your organisation if any particular case of corporate expenditure appears to fall outside the bounds of reasonable and proportionate hospitality.
You can help to protect your organisation by:
1 Issuing a clear policy on gifts and hospitality. There is a full defence from prosecution if you can show you had adequate procedures in place to prevent bribery.
2 Ensuring the amount of expenditure for a particular item is within the limits set out in the policy.
3 Appointing a senior colleague within your organisation to act as bribery officer. Their role is to grant approval for cases where expenditure may exceed corporate policy limits.
4 Ensuring expenditure is proportionate. The government does not intend to inhibit genuine hospitality or reasonable and proportionate business expenditure, so you can continue to provide bona fide hospitality and promotional expenditure.
5 Keeping evidence that you recorded the expenditure. It's also wise to record those offers of hospitality that were declined as an indication of your organisation's ethical practice and willingness to turn down more lavish gifts. 
6 If offering gifts to overseas customers, ensuring the recipient was entitled to receive the hospitality under the law of their country.
7 Above all, staff training so that all within your organisation are fully versed on what they can and cannot offer and accept as gifts within the working environment.
The Act does not aim to stamp out corporate hospitality – rather to ensure that all gifts and hospitality are transparent, proportionate and effectively monitored and recorded. Tickets to a high profile sporting event, an invitation to the rugby or lunch with a supplier are all still accepted as legitimate business activities. 
Unless companies have in place adequate procedures such as evidence their staff have been trained on the implications of the UK Bribery Act, there is a grave risk that they will unknowingly commit offences. But procedures serve another purpose. They also define the scope of legitimate business development activity. And without procedures companies may adopt an over-cautious approach and lose ground to their competitors.
Unicare has developed a new e-learning programme on the UK Bribery Act. Not only is it a quick and effective way for SMEs to train their staff, it provides an electronic record of who has completed the course. You can also download a guide to The Bribery Act guide from the Ministry of Justice.