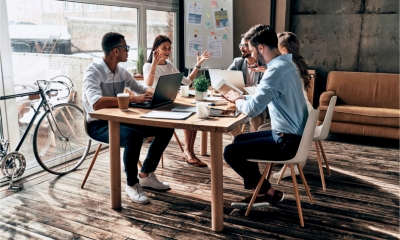 HR can be challenging for even the smallest firm and a growing number of SMEs are turning to outside HR experts for much-needed support. Rachel Miller investigates how outsourcing works and learns about the benefits it can deliver
With a raft of new employment laws coming in 2020 and with the number of work tribunals rising, it's not surprising that more and more small business owners need help with HR. But the cost of having a full-time HR professional on staff is simply too high for most small businesses.
"It doesn't make a difference how many employees a business has, as soon as you employ staff there are legal requirements you have to fulfil and you can face criminal prosecution if you break the law," says David Wynne, learning and development officer at HR provider Peninsula.
However, when small business owners try to handle HR themselves it can land them in hot water. "It's easy for a small business owner to get out of their depth with HR," says Wynne. "Often they don't even know they're having problems, they don't know if they are compliant and they don't realise just how many hours they are spending on managing people problems every week."
HR providers like Peninsula help businesses with everything from documentation and contracts to legal guidance on disciplinary matters. They offer flexible packages tailored to each client's needs and access to expert advice 24/7.
The majority of enquiries are day-to-day HR issues, such as how to calculate holiday pay properly, says Wynne. "Or you'll get a business owner calling up because an employee has gone AWOL and they want to know if they can dismiss them."
But outsourcing HR is not just about firefighting. "Our motto is prevention, protection and retention," says Wynne. "It's an approach designed to minimise the kind of problems that can make HR so stressful and time-consuming."
Award-winning HR support for small businesses
Spreading yourself a bit thin? Peninsula's team of experts can take care of those time-consuming HR issues, which means more peace of mind for you, and more time for you to concentrate on what you do best: running a successful business.
Getting legal documentation in order
A key area that small firms often struggle with is compliance documentation, such as contracts and company handbooks. "If a business owner downloads contracts from the internet and adapts them for their own use, it can be a complete minefield. You need documentation that is tailor-made for your business."
In fact, a lot of employee dramas can be avoided with robust contracts and a detailed workplace handbook that clearly outlines the company culture and rules on conduct. Staff retention typically improves as well, because employees know where they stand from day one. And if a situation escalates, you'll be far better prepared for a tribunal if you have all your documentation in order.
Even with rules in place, however, every business will come up against staffing problems from time to time, especially around attendance. By outsourcing HR, small firms can take advantage of dedicated software to manage sickness, lateness and holidays — far more effective than a scrappy wall chart or a filing cabinet full of paperwork.
Building the business
Outsourcing HR can deliver wider business benefits too. But what are small business owners looking for when they approach an HR provider? "They want to save money, to save time and to have peace of mind," says Wynne.
Outsourcing HR can certainly deliver cost savings. "If you don't have HR support, you're more likely to have to use a solicitor on an ad hoc basis and that is expensive," says Wynne.
"With HR support, you've got employment law specialists at the end of the phone to guide you. Whereas, if you go to a solicitor, it will take longer and cost more. You could be waiting a week for answers on whether to hold a disciplinary for example, and in the meantime the problem is getting worse."
But business owners also find that they make more money once the HR function is being taken care of by experts. "Business owners discover they have more time to run the business and find new ways to bring in more income."
"Above all, outsourcing HR brings peace of mind — essential when employment law changes so frequently. In April 2020, the government's Good Work Plan will become law. It's the biggest change to employment law for a very long time," says Wynne.
"A professional HR provider will make sure small firms are up to date with legislation," he says. "It takes away a lot of worries — business owners know they are compliant and that experts are always available if they have any questions."