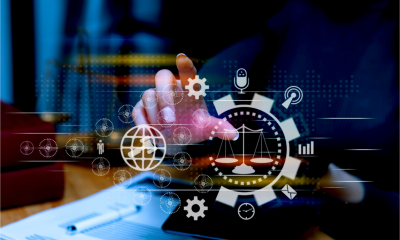 Law firms are known for their professionalism, reliability, and often serious nature of the services they provide. They pride themselves in being reputable and reliable, offering an essential service to their clientele.

But where is this clientele coming from? The legal market can be saturated, and carving out a client base and, better yet, expanding that base is essential but is often challenging.
Traditionally law firms have relied on word of mouth and allowed their work to speak for itself in order to grow their business. The school of thought has long been, 'why would a good law firm need to market itself?' Marketing hasn't been at the forefront of law firms' business strategy, or at least they will be unlikely to admit to it.
It must be remembered that law firms are businesses. And for any business to succeed, it needs a clear plan to grow, which is where marketing comes in. Growing and building a law firm is easier now than ever. Law firms no longer need to establish and rely solely on a stellar track record to see the business grow, although that may still have a place in your marketing strategy.
Marketing for law firms has come a long way in recent years. A marketing strategy doesn't need to a glitzy campaign, a huge billboard, or an all singing all dancing advert. Online marketing and social media has paved the way for intelligent, professional marketing campaigns which can subtly convey trust and reliance in your firm.
Taking your marketing online can open up a previously untouched client base. You can target appropriate audiences that will benefit from hearing about your law firm and its practices. This can is achieved through clever use of social media and or by featuring in digital PR such as podcasts and websites.
Online marketing can also be achieved by enhancing your website. A website is commonly considered a 'shop window', and steps can be taken ensure your website ranks higher in search engine results, driving more traffic to your website. Don't worry if this all sounds out of your comfort zone or beyond your expertise; experts can take care of this for you.
Online marketing is vast and wide-reaching. It remains a rapidly developing sector that all niches and business areas are investing in. Using your marketing budget to employ a company that specialises in online marketing for law firms allows you to spend more time doing what you do best - building your client base around your stellar reputation.
Online marketing agencies are plentiful. Narrow down your options by looking for research with experience marketing legal firms. They will be more likely to have the specialised knowledge to help you get the results you need to grow your law firm, professionally and organically.
Copyright 2021. Article made possible by site supporter Jeremy Bowler.