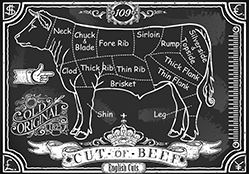 Starting, developing and growing your own business takes blood, sweat and tears. And for many business owners, being able to develop a family business that can be passed on to the next generation is a prime objective.
But imagine starting a business that has survived 50 recessions, two world wars, has seen 21 monarchs come and go and has been passed down through 25 generations since its formation in 1515. R J Balson and son is one of those rare family businesses that has managed to adapt and survive through a total revolution in high street shopping.
When the business was formed, it was as a market trader in Bridport, Dorset. Back then, butchers and other tradespeople were only allowed to operate on market days and the animals were slaughtered to order on the shambles (from the Saxon "fleshshammels" meaning street of butchers).
As towns across England grew and became more organised, butchers and other traders were gradually moved into guildhalls and covered markets. From a stall in Bridport's guildhall, Balsons became established enough to rent a shop on the outskirts of Bridport and just a few years later managed to buy the shop next door with money borrowed from another family member.
Watching the BBC's recent Hidden histories: Britain's oldest family businesses, several things became apparent that might offer some clues to the company's longevity. Firstly, the family have constantly adapted to the changes in consumer shopping habits, technology and customer expectations – from street traders to stall holders and eventually to shopkeepers delivering quality goods across the UK.
Secondly, is a passion for what they do. Richard Balson, one of the current generation of butchers, talked about the hard work, dedication and passion required to keep the business going. It was obvious from watching the programme that Richard enjoys his work and is passionate about the business continuing on to the next generation. It was also clear that Balsons have benefitted from the considerable goodwill of the local people – built up over almost 500 years of trade.
Each generation has learnt the ancient skills of butchery from the previous generations, be it father, uncle or grandfather. And although the business hasn't always passed from father to son, it has remained within the family as fathers, brothers, nephews and other relatives have been involved in the business.
The market continues to develop as shopping habits change and few people consider the possibility of a "job for life" so there are no certainties that the next generation will join R J Balson and son. But based on their previous history, I wouldn't put survival on to the next generation past them.