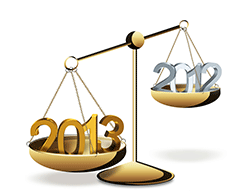 2013 sees changes to business law - as per usual, most new regulations are employment based, and a couple might cost you time or money. But good news is not far behind - for example, from April, your business customers are now obliged to settle their accounts within a month or pay you hefty interest. And thanks to the first new rule of the year, this month's "One in, two out" Cabinet command to civil servants means that any new rule that involves business spending automatically triggers red-tape reductions - allegedly saving you double what you spend.
Our top 10 key changes (some exact dates are tbc):
Employees
As of now: If any of your higher-earning staff is panicking about having received this month's Child Benefit even after they've opted out, bear in mind Child Benefit is paid in arrears, so no action is required. HMRC reminds parents: "If you receive a payment in January 2013 you don't need to do anything. "
After 1 February, the statutory redundancy maximum amount for a week's pay rises to £450 a week.
From March, the amount of unpaid leave a parent can claim increases from 13 to 18 weeks.
In April, rates of Statutory Maternity, Adoption and Paternity Pay go up a touch from £135.45 to £136.78 per week. Remember, as ever, you can claim payments back from HMRC.
Also in April, firms can offer a new type of employment contract - employees will be able to sign away some employment rights for shares in the firm ( £2,000–£50,000 worth) which will be tax free. You can offer this to existing and new staff.
Getting paid
To be launched by mid-March, a new EU Directive means public organisations, such as councils and schools, must pay bills for both goods and services within 30 days (a few exceptions allow 60 days). Most private businesses must settle invoices within 30 days, although you can agree to extend this to 60 days. Businesses that try to hold out beyond 60 days can't do so unless they can prove it isn't "grossly unfair" to the firm owed.
Businesses that pay later than these rules must pay compensation of at least 40 Euros plus interest at a rate of at least 8% above the UK base rate (currently 0.5%). If you need to quote this on your bills, the Directive is called the "Changes to the Late Payment of Commercial Debts (interest) Act 1998."
At some stage later in the year, the EU Consumer Rights Directive will become law, simplifying distance selling, online trading and work off-premises. We'll update you, so to see if you have to take action watch this space.
Tax breaks
A new credit for R&D spend comes in this year (date tbc): for above-the-line spending, a 9.1% credit creates healthier-looking income for the company, directly increasing the taxable profit which gets offset against the company's tax bill. Loss-making companies can then claim a repayment of the credit.
From April 2013 to March 2018, small companies who want to disincorporate can transfer business assets to one or all of the shareholders who want to carry on the business in unincorporated form, without paying the usual corporation tax . Assets must be worth less than £100,000 to qualify.
Health & safety and CRB checks
Early 2013: To reduce the regular expense of getting employees CRB-checked, the government's Disclosure and Barring Service (DBS) will launch an online update service so you can check any applicant's criminal record and/or their suitability to work in regulated activity with vulnerable groups, such as old people and children. You pay a small fee , but using the DBS will be faster and cheaper than paying for a new Criminal Record Bureau check every time a worker joins the organisation or switches activities. Applicants can also carry their checks between different employers.
By April 2013: Most businesses will be exempt from Health and Safety inspections, except those where the workers are at higher risk, such as building firms or if the business already has a bad H&S track record.
Georgina Harris is an author and editor.
More details on HMRC changes on their website.