October 18, 2013
Cameron promises firm line on late payment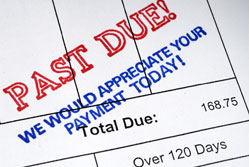 The government is to launch a consultation on tackling late payment later this year, as figures show that 85% of SMEs have experienced problems with late payment in the past two years.
Prime minister David Cameron said: "It's not right that suppliers are not getting paid on time for the work they do and the services they provide. The government has already taken steps to help address this issue, but I am clear that more needs to be done to build a business culture across all sectors of the economy that sees the fair, prompt and reliable payment of suppliers become a core corporate responsibility."
The consultation will look at a range of issues including:
how to encourage greater responsibility for payment policies at board level;
what can be done to increase transparency around which companies are good payers and which ones are not;
how the Prompt Payment Code (PPC) can be strengthened;
whether more can be done to enforce existing legislation, including the possible prohibition of "grossly unfair" payment terms;
what can be done to encourage more companies to make use of their existing statutory right to interest for late payments;
whether government can do more to help SMEs through new technologies and services like electronic invoicing and mobile payments.
Katja Hall, CBI chief policy director, said: "Businesses already have a number of routes for recourse if they are paid late, but the reality is that few choose to act on late payment for fear of fall out with their customers."
The Federation of Small Businesses (FSB) has been leading the call by business groups for action on late payment. John Allan, national chairman, said: "Being paid late or given extended terms can severely hamper many small firms. They simply don't have the same cash-flow buffer as a large businesses, so being paid on time can be the difference between being able to pay staff and not."
Alexander Jackman, head of policy at the Forum of Private Business (FPB), said: "This consultation is long overdue and will undoubtedly receive a great number of replies. It is essential the government uses all the evidence submitted to develop some robust policy actions to tackle the problem of late payment effectively."